«

Grúas Alapont is a

family company

established in 1949,nowadays it has finished its transition to the

third generation

. The four children of Paco Alapont Tatay: Ana, Silvia, Fran and Pablo have taken over

60 years of experience

in the sector;from its start with carts pulled by horses until today, with a fleet of

new production lifting machinery and a staff with more than 50 employees

.

There are many more important qualities that do not change over the years and allow us to be with you:

daily solutions

, a good job performed on time and the special dedication of a family

.

»

In the 50s, we transported logs, paving stones, beams, heavy materials for buildings, and even farming products to be distributed at stores.The logs, which sometimes were over 13 tons, were loaded on the carts by hand, by means of ramps to be climbed with the help of wedges, levers and jacks. It was a difficult loading operation since at that time there where no lifting machines or cranes.

In 1962, Paco Alapont Tatay decided to buy the first truck with the financial aid of his father. It was a Ford María de la O, which later was joined to a trailer with an extensible shaft.

Three years later, in 1965 and due to a raise in the orders at that time, they purchased a tractor which was joined to a galley which replaced the horses; and a head tractor "Pegaso Super Comet" that joined two platforms which transported one while loading the other.

In the face of the problems encountered with the loading and unloading operations, in 1967 the first crane was purchased, a 3800 kgs. Sacri with a 16 meter long feather. This was a building electric crane upon a White Super Power truck and activated by means of an alternator; This unit was named G-1 and was drived by Paco Alapont Tatay.

The success of this unit and the increase of the orders made them purchase one year later another Sacri crane with the same features, the G-2, upon a Scania Babis truck, drived by Antonio García Briz, our person in charge at the moment.

In 1970, in order to meet the new needs of our customers, we incorporated the G-3, the first self-propelled and Rotating Crane. During the following years, the park kept on growing and it was in 1974 when the ninth unit was purchased, a mobile crane with 60 Tn and a 38 meter feather which, with shorter feathers, could reach 62 meters of height, the biggest telescopic mobile crane at that moment.

Time went by and the park and the staff kept on growing. In 1985 the first all-terrain telescopic mobile crane was incorporated, a Liebherr crane with two 30 Tn. shafts which was followed by a 70 Tn. one, the 120 Tn one., two cranes of 45 Tn. and 80 Tn. together with several trailers with articulating truck cranes.

Nowadays, there around 50 people in our company and the park is bigger and has the most modern high generation technologies with articulating truck cranes by remote control and all-terrain telescopic mobile cranes with a reduced size and a great service from 30 Tn. up to 250 Tn. and 115 meters of height.

Like nowadays, our customers' needs will be our center of attention and performance in the future. We want to keep on being a guarantee of estability, quality and reliance, specially in a time where changes are faster than ever.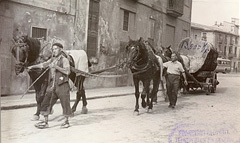 Francisco Alapont Quilis (left.)